As iron sharpens iron, so one man sharpens another.
You are not alone! We believe that every believer needs support and encouragement. A Life Group is where relationships are made, where support is given to one another, and where we dig deepest into God's word.
No matter what your age or situation in life, there's a place where you belong here.
Life Groups are available for all ages at both 9:30 & 11:00 AM.
If you are interested in specific information about Life Groups,
please email or call the Church Office at (865) 453-9001:
Adults -
[email protected]
-Karen
Youth -
[email protected]
- Amanda
Children's -
[email protected]
- Kelli
Preschool -
[email protected]
- Melissa
Weekday Groups -
[email protected]
-Karen
Life Groups cover a wide range of ages, both married and single.

Join us Sunday mornings at either 8am, 9:30am
or 11:00am for great Bible Study and fellowship. We also offer week night in home Life Groups.
Life Change University
Winter 2022
Beginning January 12th
Life Change University is all about gaining knowledge and growing in your walk with Christ.

6:00-7:30 pm beginning Wednesday January 12th

Gospel in Life by Tim Keller, led by Renee Kohagen Room A-206
Join us for this eight-session course on the gospel and how to live it out in all of life—first in our hearts, then in community, and ultimately out into the world. 
The course begins with the theme of the city, our home now, and closes the course with the theme of the eternal city, our heavenly home. In between we will look at how the gospel changes our hearts, changes the community, and changes how we live in the world. 

Contenders: Making the Case for Life Room E-209
Many people think abortion is a serious problem, but few can make a compelling case for life. Join Dr. Marc Newman, a national pro-life speaker trainer, as he shows you how to defend life. In this five-session course you will learn to make the scientific, moral, and biblical case for life, and how to overcome key objections to the pro-life position. You will also learn how the ideas that are used to support abortion advocacy place us all at risk, and what you can do about it.

How to Study Led by Jennifer Finchum Room A-103
1/12 - Basic Essentials in How to Study the Bible
1/19 - How to Use Free Online Study Tools 
This two-session study will be excellent for equipping teachers and leaders of life groups as well as anyone wanting to be better able to study God's Word. This class will be offered again March 2nd and 9th.

Elijah led by Jana Chapman Room E-219
Ladies, join Priscilla Shirer in a seven-session bible study on the life of Elijah. In this faith-building study, you'll discover how Elijah's obedience to God kept him anchored, sharpened his faith, broadened his impact, and invited heaven's fire to fall. God is also working in our lives today to fashion a fiery, bold faith that will empower us to share the hope of Christ with our family, friends, co-workers, and community.


The Holy Spirit led by Shirley Turner Room C-311
In this six-session study in the Book of Galatians, Paul challenges us to "keep in step" with the Spirit. Not only do we need to learn how to keep in step individually, but we also need to learn how to do this as a unit as well. When we receive Christ, the Holy Spirit indwells us, and He sets the line and pace for us to follow. We need to learn how to be sensitive to His voice, listen for His commands, heed His warnings, and follow closely after Him. Now is the time to "take a step" to "keep in step"!

Divorce Care led by Chris and Sarah Gordon Room B-210
This thirteen-session program offers Biblically based teaching, activities, and support to encourage healing.  Whether you are in the process of divorce, or it's been years ago and you are still struggling, DivorceCare helps you face those challenges and move toward rebuilding your life.  According to recent statistics, there is a divorce in America every 13 seconds. This equates to 277 per hour, 6,646 per day.  In the time it takes for a couple to recite their wedding vows (about 2 minutes) nine divorces will have taken place.  Yet, separation and divorce are some of the most painful and stressful experiences people ever have to face.  It's a confusing time filled with isolation, bitterness, and lots of questions.  It can even affect mental and physical health.

Walking through Acts led by Misty Hedrick E-210
Walk through the book of Acts verse by verse in this ten-session Bible study. Discover the origins of the church, how a small group of Jesus-followers turned the world upside down spreading the hope and love of Christ throughout the world, and what that means for you today. All you need is your Bible and a note pad.

Functional Fitness led by Lisa Strobridge C-304
This class will help people understand the benefits of functional fitness so that they can increase or maintain their independence in performing everyday activities such as bathroom visits, carrying their groceries, lifting their child/grandchild, and getting up off the ground. This training helps people move more and move better using functional fitness, roots the necessity to move well in Biblical principles, and helps people understand why movement, functional fitness, and overall wellness are integral to God's plan for our lives. This class is for adults of any age. Wear clothes that you can exercise in. More details will be provided in the first meeting. This class will have twelve-sessions.



Beginning March 2nd 5:30-6:30
Apologetics led by Doug Taylor PHD Room E-209
March 2 - Apologetics: What it is
March 9 - Apologetics: Answering Objections 
March 16 - Apologetics: Why we Believe
March 23 - Apologetics: Why Christianity is Exclusive

How to Study Led by Jennifer Finchum Room A-103
3/2 - Basic Essentials in How to Study the Bible
3/9 - How to Use Free Online Study Tools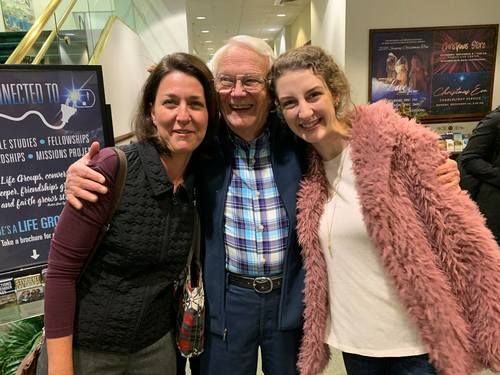 At FBC, we believe membership is of great importance, both to the believer and to the church. Acts 2:44 says, "All the believers were together and had everything in common." Just as the original church met in both large gatherings and small groups, we follow that pattern today.
Whether you are a new member or are just considering joining First Baptist, this class will help you discover what it means to be a member at First Baptist. The purpose of the class is to connect you with our MISSION and VALUES, explain the beliefs we hold dear, connect you to a Life Group and expose you to service opportunities within the Church.
The Connection Class meets the first Sunday of each month. If you are interested in attending, please fill out the form below of contact Karen by calling (865)453-9001 or emailing
[email protected]
to RSVP for class, lunch and child-care needs.
RightNow Media
We believe the mission of the church matters. And we've seen how God can change lives through video resources. That's why we offer RightNow Media. You can now have access to over 20,000 Biblically-based videos for small groups, families, students, leadership development, and much more.
For further information on RightNow, click the orange button. To sign up, send your email address to
[email protected]